Sciatica is a condition that is categorized by shooting pain that starts in your lower back and radiates down your buttocks, hip and leg. It occurs when your sciatic nerve, which begins in your lumbar spine and traverses down each leg, becomes damaged, compressed or irritated. A number of different spinal issues can lead to sciatica pain, including a bulging or herniated spinal disc. Below, we take a closer look at how disc issues can contribute to sciatic nerve pain, and how Dr. Jackman can help you treat them.
What's Causing My Sciatic Nerve Pain?
Your sciatic nerve is the largest nerve in your body and runs from your lumbar spine down to your feet, it can become impinged, leading to a number of symptoms including localized or radiating pain, numbness, a tingling sensation, a burning sensation or a pins-and-needles-like sensation in your lower back, buttocks or legs. In many cases, symptoms are most notable when you're sitting and more pressure is placed on the region, but symptoms can also develop when moving or running.
A number of different issues in the spine can lead to sciatic nerve pain. As we alluded to in the intro, a bulging or herniated disc can push through the disc wall and put pressure on the spinal nerves. Aside from disc issues, sciatic nerve impingement can also be caused by:
Piriformis syndrome, which occurs when the piriformis muscle tightens or spasms, compressing the nerve.
Direct or cumulative trauma to the nerve or nearby structures.
Spinal stenosis, which results in a narrowing of the spinal canal through which nerves run.
Osteoarthritis can lead to SI joint dysfunction and nerve problems
Vertebral shifting due to spondylolisthesis can lead to sciatic nerve compression.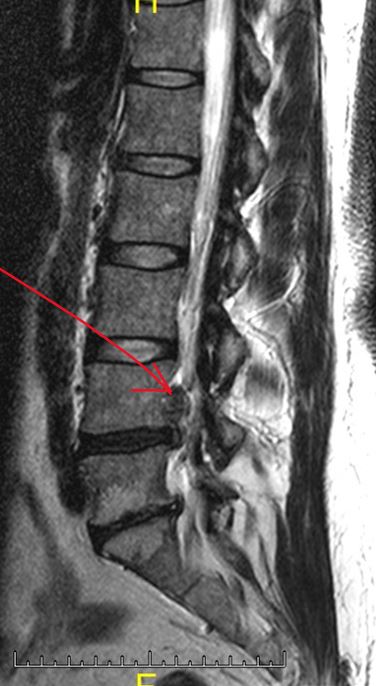 Diagnosing and Treating Sciatic Nerve Pain
If you're dealing with some of the above symptoms, set up an appointment with a specialist like Dr. Jackman. He'll begin by reviewing your medical information, asking about your symptoms and having you perform some simple movements to see if any actions cause symptoms to develop or relieve. He'll have a pretty good idea what's causing your discomfort after these tests, but he may confirm his suspicions with the help of imaging tests.
Like most health conditions, treatment will begin with some non-operative options. The goal of treatment is to correct the underlying problem, restore normal nerve function and prevent a problem from developing again in the future. Some treatments that will likely be recommended in combination with one another include:
Rest
Ice/Heat therapy
Physical therapy
Anti-Inflammatory medications
Pain relievers
Gentle exercise and stretching
Dietary improvements and weight loss
Posture improvements
While some or all of those treatments may be used in combination with one another, it's the active treatments like physical therapy, stretching and weight loss that will really help to drive home recovery. Very rarely is surgery needed to address sciatic nerve compression, but it could be in your future if a disc issue cannot be resolved through conservsative means. Your specialist can walk you through your surgical options should it come to this point, but oftentimes non-operative methods provide full or enough relief to avoid surgery.
For more information about sciatic nerve pain and correcting any sciatic nerve issues, reach out to Dr. Jackman and his team today.